Premiere Solo Esraj Recital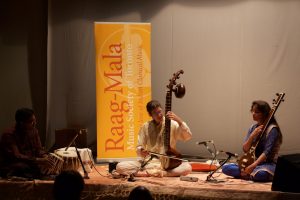 For a Raga sadhak, there is no more auspicious day than Guru Purnima, a day when we worship the Guru consciousness and surrender to our whole lineage of Gurus. Usually offering sweets and  sitting for music with Guruji, this is a special opportunity to meditate on the Light of our sadhana and deepen our receptivity to its influence in our artistic Becoming.
On this years Guru Purnima, July 9th, 2017, I had the honour of offering my first ever solo Esraj recital for Toronto's Raagmala organization. I can't thank Mohamed Khaki enough for having faith in my music and supporting my development on esraj.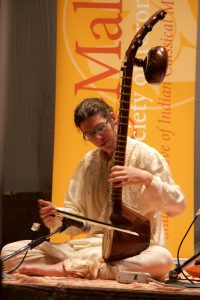 The Boro Esraj is a larger and modified version of the traditional esraj, which was designed and created by the great Maestro Ranadhir Roy to better suit playing pure classical music as opposed to its more common use playing light classical music. I have been fortunate to be under the guidance of my Esraj Guru, Abir Singh Khangura for the past 5 years and have deeply loved each and every step of the long journey into the technique of playing this instrument.
Please enjoy some short clippings from one of the most memorable musical occasions of my life. Thanks to Kiran Morarji who accompanied me wonderfully on tabla, to my lovely wife Shayna who accompanied me on tanpuri, and to Raagmala and Mohamedji for hosting the concert.
Pranaam