Big Stage Premiere of Solo Hindustani Saxophone in Kolkata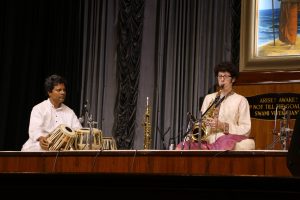 On May 14th, 2016, I had the great honour of taking the stage at one of the most prestigious venues for Indian Classical music in India; The Ramakrishna Mission, Golpark, Kolkata.
As the curtains opened I couldn't help but reminisce about my very first Classical Indian music concert experience here at this historic auditorium almost exactly 10 years ago listening to Maestros Rashid Khan and Shiv Kumar Sharma. My whole journey; a decade of soul searching in India flashed before my eyes, along with an overwhelming wave of emotion that seemed to contain everything I had gone through in order to arrive on this stage. A pervading peace and inner joy that Indian Raga music fills me with descended as I looked out at my Guruji, Pandit Shantanu Bhattacharyya and his family in the audience, as well as so many friends and musicians I have bonded with over the years, not to mention a full house of serious Raga music connoisseurs.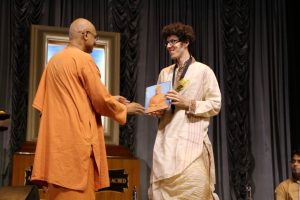 On such a prestigious platform, I am the first to present North Indian Classical music on the tenor and soprano saxophones, as well the first saxophonist to accomplish playing 'Vilumbit Khayal', which is the longer vocal format, performed in a very slow 12 (Ektaal), or 14 beat (Jhoomra) rhythmic cycle.
I started with Vilumbit Jhoomra in Raag Marwa, a very deeply sombre and penetrating Raga; one of India's grandest, accompanied by Sudhir Ghorai on tabla.
Joining us for the next item, Raag Durga, was Soumya Shankar Roy on the Shri Khol, a drum known for semi-classical accompaniment, but which we brought into the Classical format, an innovation of another kind.
Ending the hour and a half recital was my arrangement of John Coltrane compositions into an Indo-Jazz Suite which included; Brasilia, Mile's Mode, Dusk-Dawn, Ascension, Transition.
I was overwhelmed by the enthusiastic response to my rendering of Indian Classical music on the tenor and soprano by the famously critical audiences of Kolkata. Countless people shared their amazement of how I was able to "transcend the limitations of the saxophone" to deliver the traditional nuances that the mood of the Raga depends on, but only after 10 years of intensive practicing under my Guruji, I admitted that there is still a lifetime of work ahead!
I was also surprised how much my creative Indo-Jazz music inspired, even the most traditional listeners, to a new level of appreciation and respect for the potential of artistically meaningful cross-cultural music.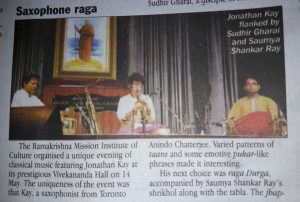 Some pre-concert inspiration and guidance from our Guru, Pandit Shantanu Bhattacharyya!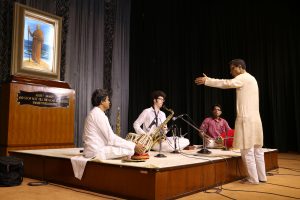 The Full Performance has been uploaded to Youtube. Please enjoy!