Kayos Theory CD release featuring David Liebman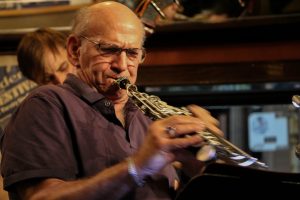 Kayos Theory took to the stage at the Rex Hotel in Toronto on July 28th and 29th with a very special guest; David Liebman. Having passionately followed his music my whole life and studying his approach to the saxophone and chromatic jazz harmony very comprehensively, this was a true honour and privilege to share the stage with such an inspiration and mentor.
The concert was our official release of our new studio album "Experiments of Truth" suite, which featured NYC's free-jazz pioneer Daniel Carter, and was produced by Amadine Pras. We started each evening with an hour long rendition of the suite and the second set followed with a re-imagination of John Coltrane's later work, including India/After the Rain and Prayer and Meditation Suite.