Here is a collection of Publications, Interviews and Press from over the years.
PUBLICATIONS
Publication in Critical Studies in Improvisation (2016):
Musical Transcendence: A Jazz musician's journey into the heart of Indian Classical music
INTERVIEWS
Interview in Kolkata Konnector (June 2016)
Interview with Kaahon, a prominent arts website based in Kolkata. (June, 2015)
PRESS COVERAGE
Premiere of Solo Hindusthani Saxophone at one of India's most prestigious and historic venues for Indian Classical music; Ramakrishna Mission, Golpark, Kolkata (May 2016)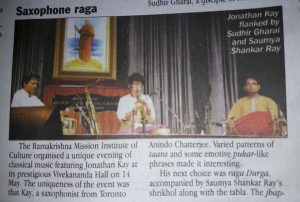 Press reviews from Anubhooti Cultural Program, Nagpur, India. Feburary 6th, 2016
Jonathan and Andrew's Hindusthani Classical Saxophone recital was hosted alongside 3 of India's greatest Maestros; Padma Bushan Dr. Prabha Atre and Pandit Rajan and Sajan Mishra. The following is an excerpt from the review of the concert:
"Saxophonists Andrew Mark William Kay and Jonathan David Kay cast a spell with their presentation of Hindusthani Classical Music…Dressed immaculately in traditional Indian Dhoti and Kurta, (they) took up the 'Raga Marwa' for a detailed delineation…They had a brief Alaap and straightaway went onto the vilumbit gat set to Jhoomrah taal. Both showed tremendous grasp of the somberness of the evening Raga and went about very systematically in undertaking the 'Badhat', flawlessly intervening the structure of the Raga with intricate 'Sargams' and followed by 'taans'. It was a good demonstration of the 'Gayaki Ang' that the duo have mastered under their illustrious guru Pandit Shantanu Bhattacharyya. What was really impressive was their ability to strike a chord within the listeners with the accompanying pathos the Raga carries and their masterly landing on the 'Sam' that showed their perfection in grooming, as their 'layakari' was flawless. Their grammar was perfect and not once did they falter either in swara or layakari, which heightened their presentation and made the gathering wonder in awe. Their arrival on the 'Shadja' was smooth and breathless."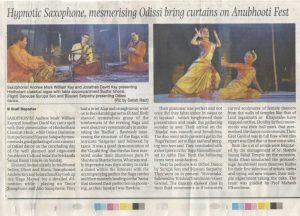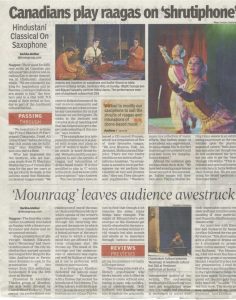 Collection from over the years!
TV Coverage from Kolkata, India