Publication in Critical Studies in Improvisation
I am extremely honoured to have my first published article in such a reputed publication from Canada, Critical Studies in Improvisation. This is a multimedia laced article describing the past 10 years of my journey into Indian Classical music. Please enjoy!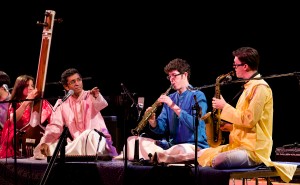 full article: http://www.criticalimprov.com/public/csi/index.html
Musical Transcendence: A Jazz musician's journey into the heart of Indian Classical music
Abstract
In this article, I share insights and experiences of my journey from the world of jazz and creative improvising to the traditional training of my Guru that helped me to pioneer the expression of North Indian classical music on the tenor and soprano saxophones. This journey has been an intensive process spanning ten years of practice and training under the close guidance of my Guru. To reach these goals, I sacrificed my Western professional music life in order to live in Kolkata, India and immerse myself in the traditional Indian way of life, and after years of pursuing this path, I have grown as a musician and artist far beyond my expectations.
To this day, there has never been an accomplished saxophonist of North Indian classical music, and hence no Guru or maestro to provide traditional training on the instrument. I feel a great privilege in being a forerunner of North Indian classical music on the saxophone, which has also lead me to research and develop the first Indian-tempered saxophone: the Shrutiphone. My efforts to traditionally render this music on saxophone have been received with great support and enthusiasm from today's maestros, who have listened to my performances and approved my approach as containing the traditional mood and spirit of the ragas.
During this process, I underwent a cultural assimilation to learn the authentic language and spiritual nature of the ragas, an experience that has radically transformed me and given me a path to find my own voice as a traditional raga musician and a contemporary improviser. In searching for a natural synthesis between both forms of music, I discovered they can be united in their motive and meaning to achieve musical transcendence.